---
Emerald Chronometer®
for
Wear OS by Google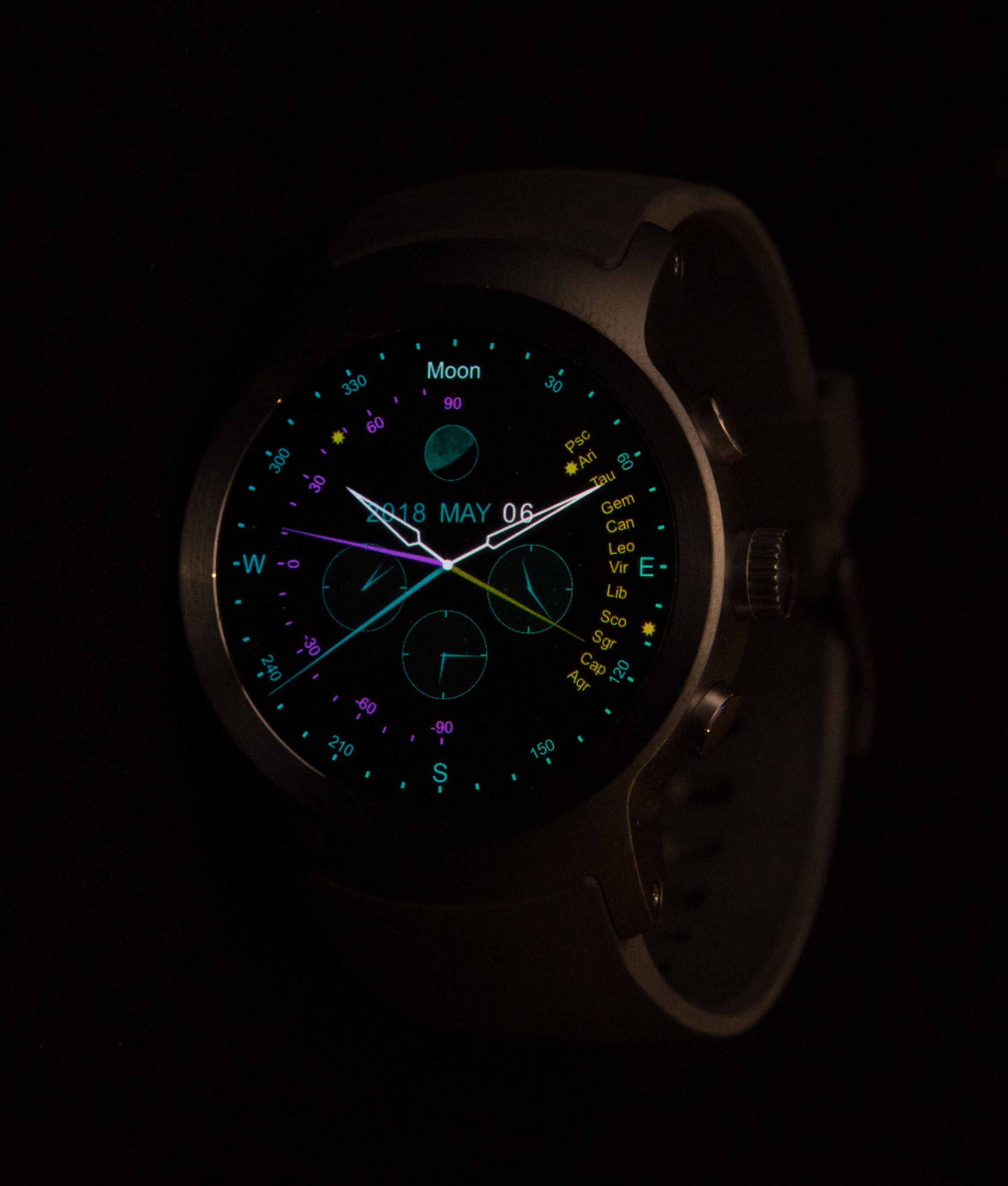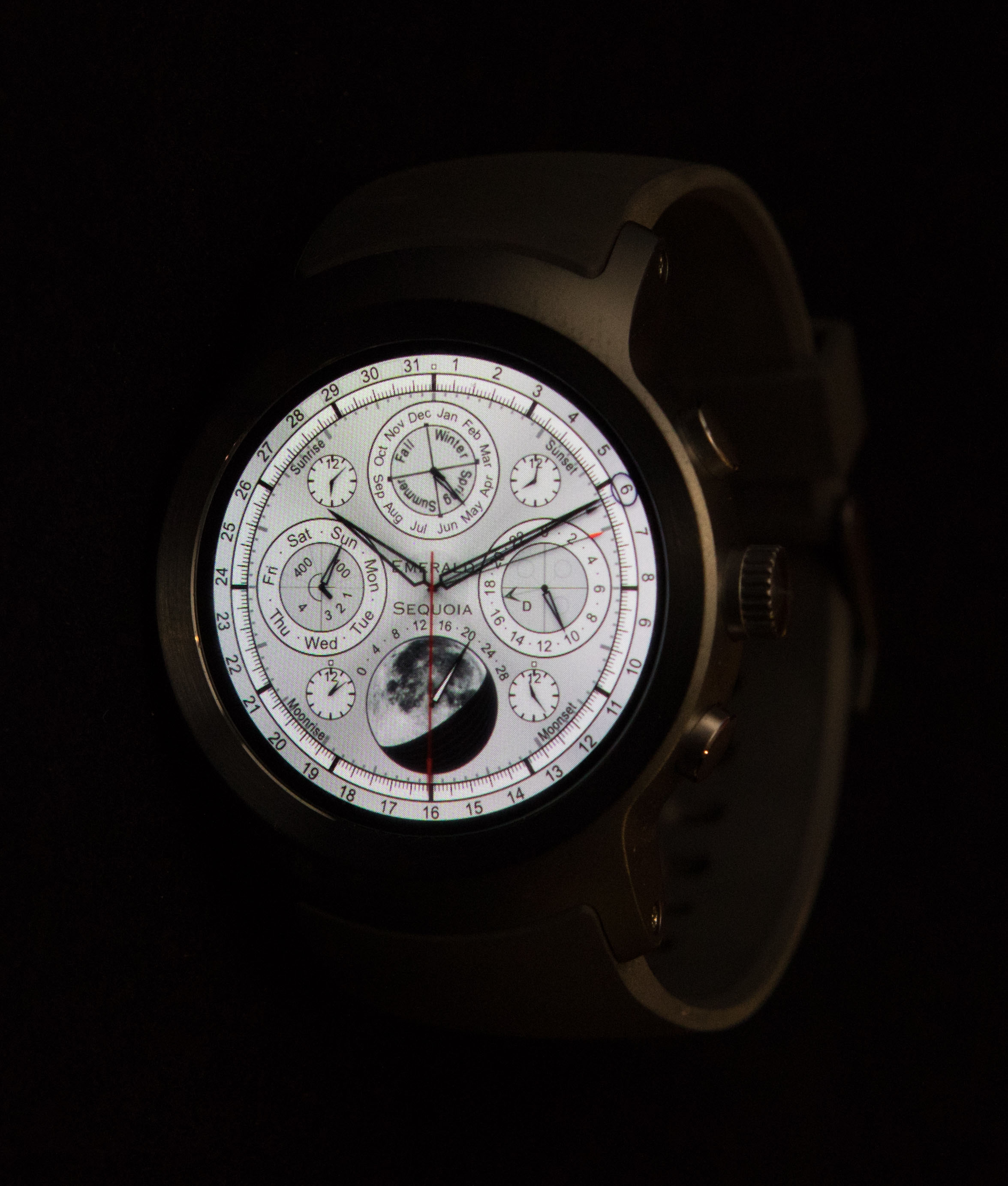 Emerald Chronometer® is a collection of 21 faces for Wear OS by Google (previously known as Android Wear) that model high-end mechanical watches. (It's also an Apple iPad app, and an Apple iPhone app that was one of the first apps in the Apple App Store in 2008).
These faces contain many of the most complex "complications" found in real watches, plus refinements found nowhere else. All displays maintain the look and feel of real mechanical objects, but with the time and location accuracy of the connected phone.
Time and date features:
Astronomy features:
Highly accurate data that requires no network access
Rise, set, and transit times, and altitude/azimuth, for the Sun, the Moon and the 7 planets; twilight indicators (Venezia)
A unique face (Miami) showing the rise and set times of the 5 classical planets visible to the naked eye, plus the Sun and the Moon, all at once
The correct shape and orientation of the Moon in all phases but still using a mechanical display (e.g., in Chandra)
Relative positions of the Sun, Moon, 6 planets and the constellations of the zodiac (e.g., in Firenze)
Current eclipse state, if any (Basel)
The Equation of Time (Mauna Kea)
Solar time and sidereal time (Mauna Loa)
A device info display, accessible from every face's configuration panel, showing the information (time, timezone, and location) that the faces use to display time and astronomical data
A demo face that cycles through the other faces, showing time at high speeds to demonstrate how the faces work (Emerald DEMO)
There are two versions of Emerald Chronometer for Wear OS:
| | |
| --- | --- |
| | A paid app with all of the faces included (Emerald Chronometer) |
| | A free demonstration app (Emerald Chronometer FREE) with in-app purchases. |
The FREE app includes only the DEMO face, but the other faces may be purchased either individually or all at once with in-app purchases; the DEMO face cycles through all the other faces, running time at high speed to demonstrate how the displays work.
In addition; all of the faces are avaiable for purchase separately; see the How to Buy page or the "Get it on Google Play" button on each face description page (linked below).
(If you like Emerald Chronometer but you wish you could change the displays yourself to times in the past or future, you might be interested in Emerald Chronometer for the iPhone or iPad, which have this feature).
The following links describe Emerald Chronometer and its faces in more detail:
The Application
The Faces for Wear OS by Google
| | |
| --- | --- |
| | Mauna Kea, timekeeping's astronomical roots on display |
| | Mauna Loa, Mauna Kea for the Moon |
| | Terra, world time ring with customizable cities |
| | Gaia, world time subdials with customizable cities |
| | Venezia, many displays for each of 7 planets, the Moon, and the Sun |
| | Haleakalā, sunrise and sunset |
| | Hana, moonrise and moonset |
| | Geneva, classic multi-dial with many complications |
| | Selene, all about the Moon |
| | Chandra, realistic mechanical moon phase |
| | Paris, simple, elegant |
| | McAlester, an old pocket watch |
| | Firenze, heliocentric orrery |
| | Padua, topocentric orrery |
| | Babylon, full-month calendar |
| | Basel, many astronomical displays including eclipse |
| | Alexandria, a mini-planetarium |
| | Atlantis, steampunk |
| | Milano, perpetual calendar with retrograde hands |
| | Miami, rise and set times for classical planets and the Moon |
| | Vienna, 24-hour time |
---